AgileOne: Predictive Marketing Intelligence and Customer Analytics
Research and Discovery, User Interface and Interaction Design, Testing and Iteration.
"AgilOne is a customer data platform for enterprise B2C companies. Through a single view of customers across all channels, predictive models to understand customer behavior, and real-time APIs to orchestrate personalized experiences across all touch-points, AgilOne creates authentic omni-channel customer relationships that maximize lifetime value."
My Role
I moved from Sweden to Mountain View, CA back in 2012 to work as UX Designer for AgilOne and I stayed for about two years.
During that time I collaborated with product and technology teams to turn multiple standalone applications into an integrated suite of products with a unified user experience. I designed an analytics reports builder and widget creator, a boolean logic rule builder and a marketing campaign management solution. I helped define the creative vision, researched and developed use-cases and scenarios, produced detailed annotated wireframes and interactive prototypes and performed usability tests.
A few years later I was was asked to help define a new visual design language for their product interface and to work on their updated campaign builder experience.
Marketing Campaign Management and Segment Builder
Marketers using AgileOne are able to send more meaningful and targeted marketing messages and create personalized experiences across different channels such as email, direct mail and SMS. The customer data provided can help better match lookalikes on Google Ads or YouTube and build custom audiences on Facebook or Instagram.
Together with the product team I worked on their campaign management tool which included a list view for the campaigns and a customer segment builder.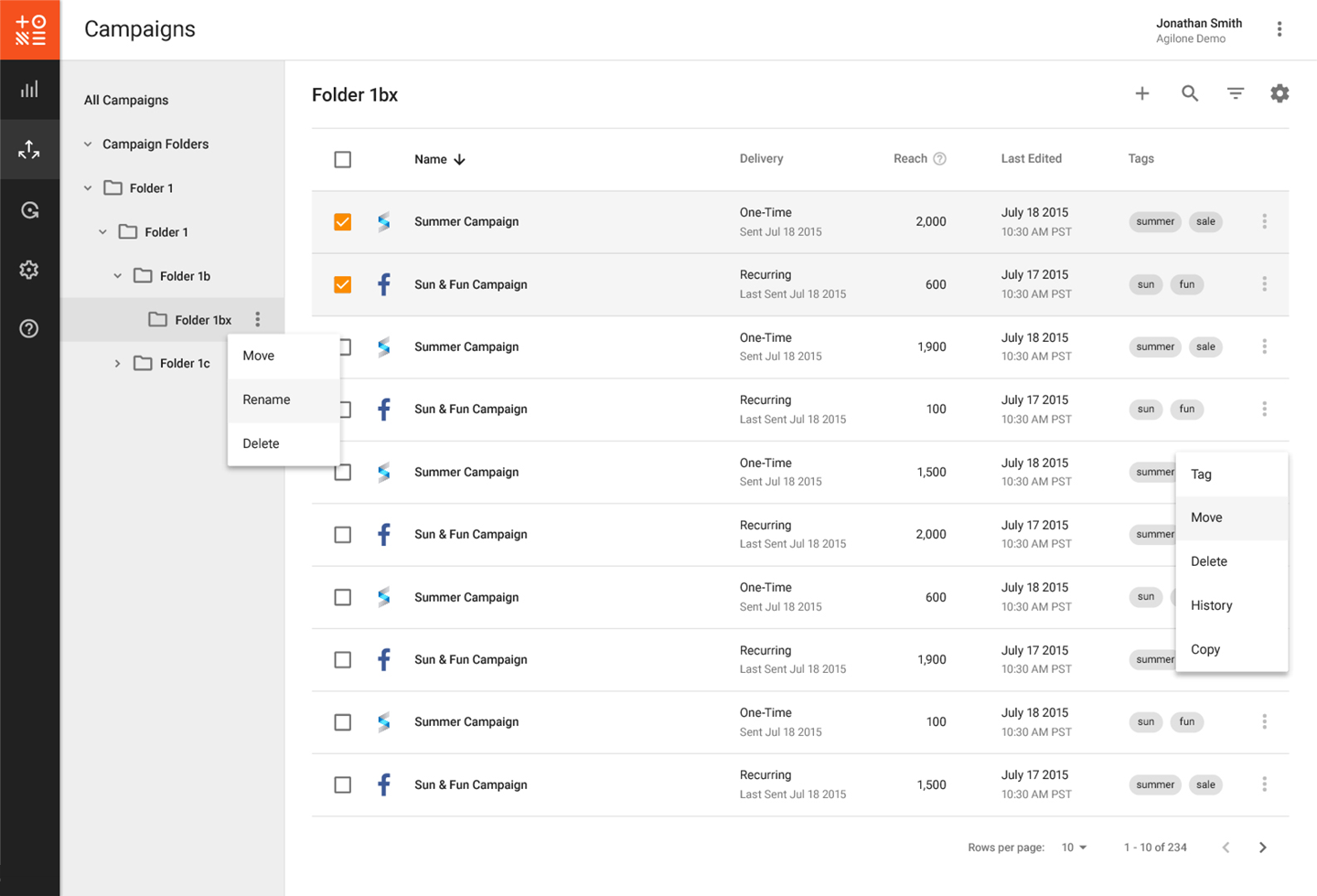 The segment builder provides a simple yet powerful way for marketers to create highly specific segments based on various customer attributes, behavior and interests as well as models for predicted lifetime value, next best offer and likelihood to engage, convert or buy.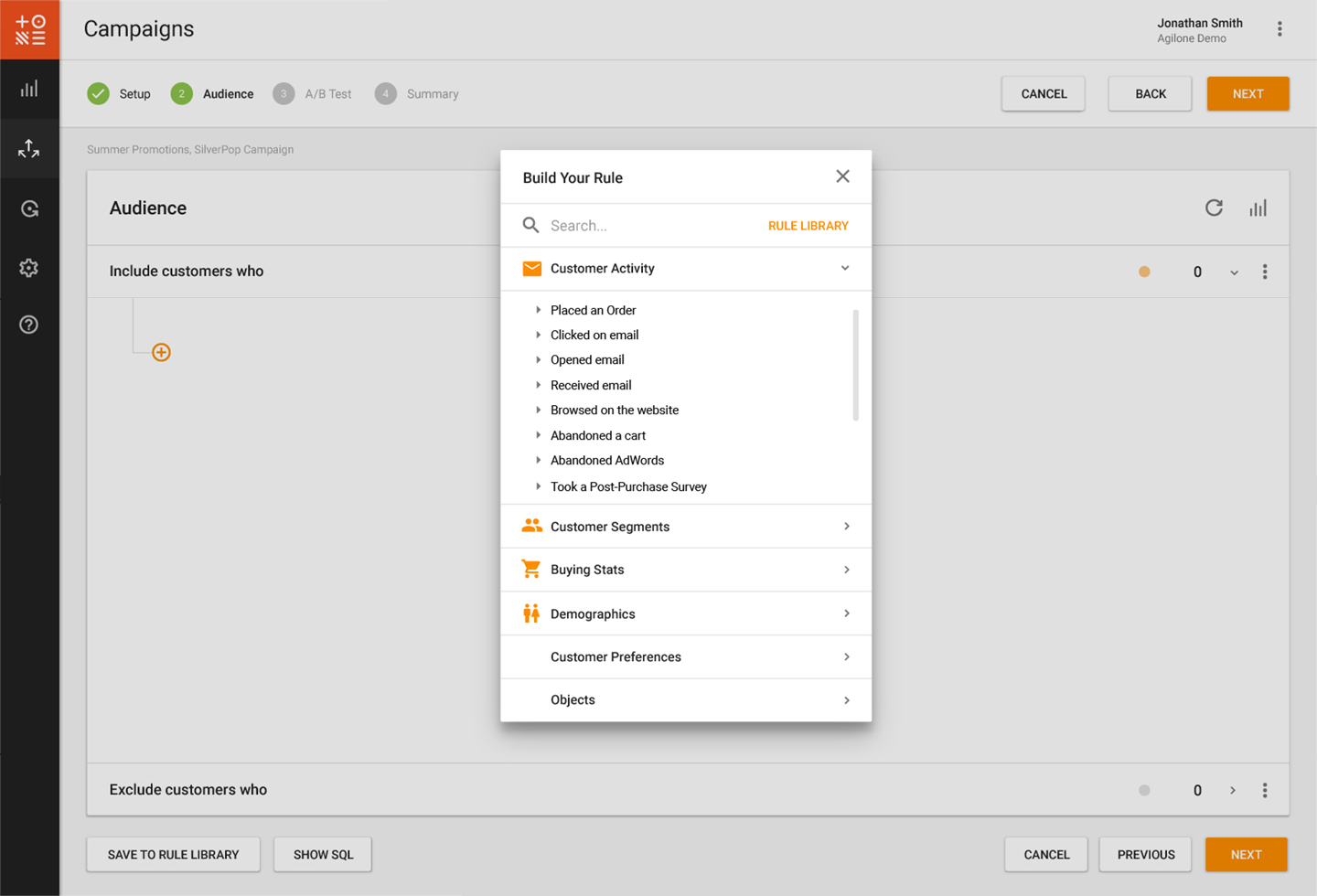 Customer segments can be customized even further to meet very specific conditions. Groups of customers can be included or excluded based on "AND" and "OR" statements. With this kind of logic it is possible create really complex rules so to make it easier for users I tried to structure the rules so that they maintained a simple sentence structure.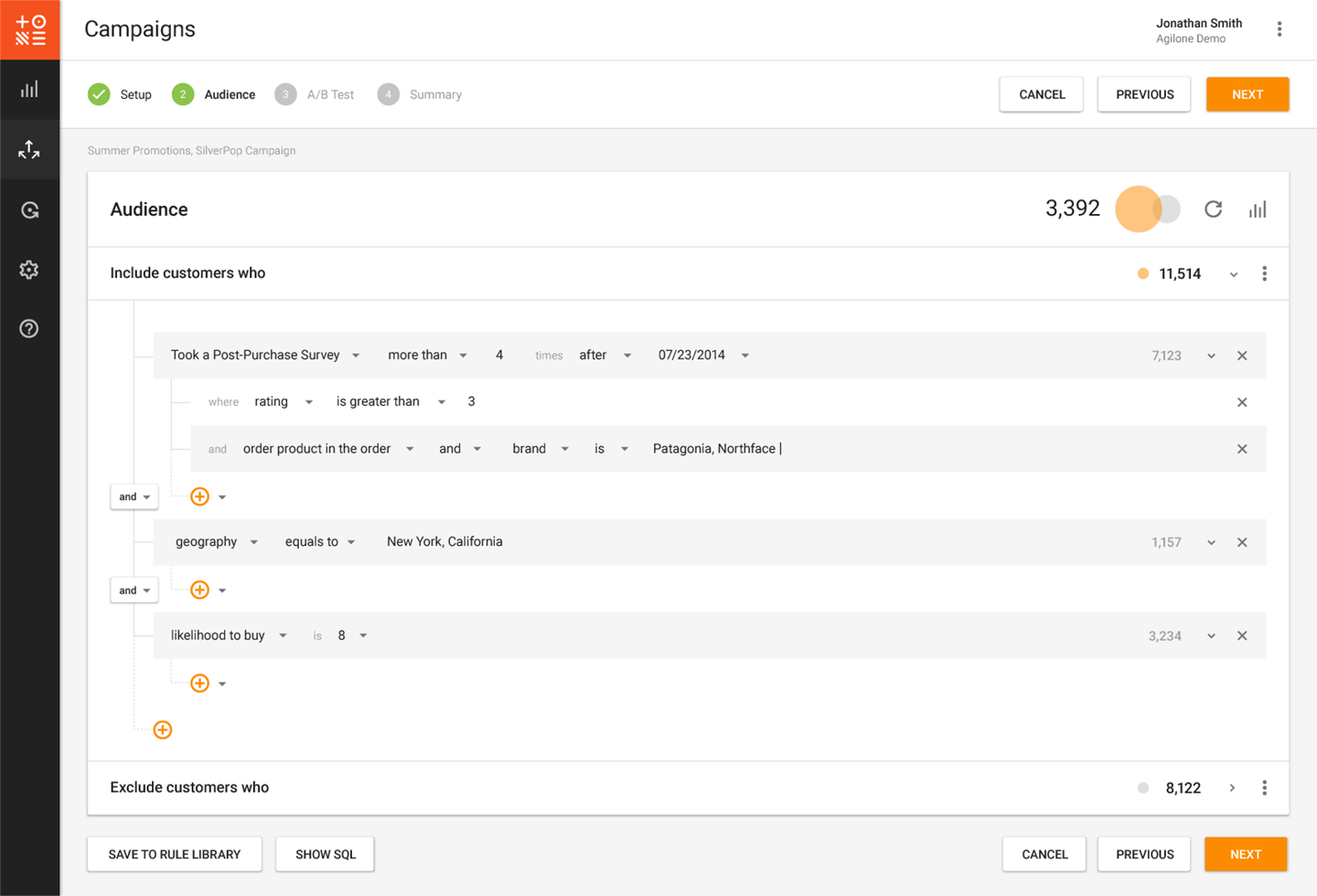 Visual Design Language and UI Components
The visual design language was based on Google's Material Design with the aim of being unique and memorable when placed among competitors, fun and joyous to use but most importantly it should relate to the AgilOne brand. I wanted to provide guidelines and reusable components and patterns which had been refined and validated to improve the consistency and quality of the product interface and to enable designers and developers to avoid repeating themselves, freeing them up to solve bigger problems and produce higher quality work

Analytics Reports Builder and Widget Creator
One of the earliest projects I was involved in when I first joined AgilOne was a report builder and widget creator. The goal was to empower users and allow them to see the data they wanted to see, in the way they wanted to see it. We focused on flexibility and customization that would serve a wide range of needs. Users could combine hundreds of different measures and dimensions and choose from a number of different visualizations to create their widgets. These widgets could then be used to build highly customized and interactive dashboards.
Would you like to know more?
If you would like to know more or just want to chat, email me at tony@neuromodule.com.